Dear Partners in Health and Medical Technology,
We are excited to announce an upcoming live seminar on the Medical Devices Regulatory Framework (MDR & IVDR) and the latest updates on the AI ACT. With continuous changes in the regulatory landscape for medical devices and the participation of numerous companies, research centers, and universities in European and national funding programs such as Research Innovate – HORIZON and ESPA, this seminar is of great value to all.
Live 4-hour Training Course on the Medical Devices Regulatory Framework (MDR & IVDR) Pytheia,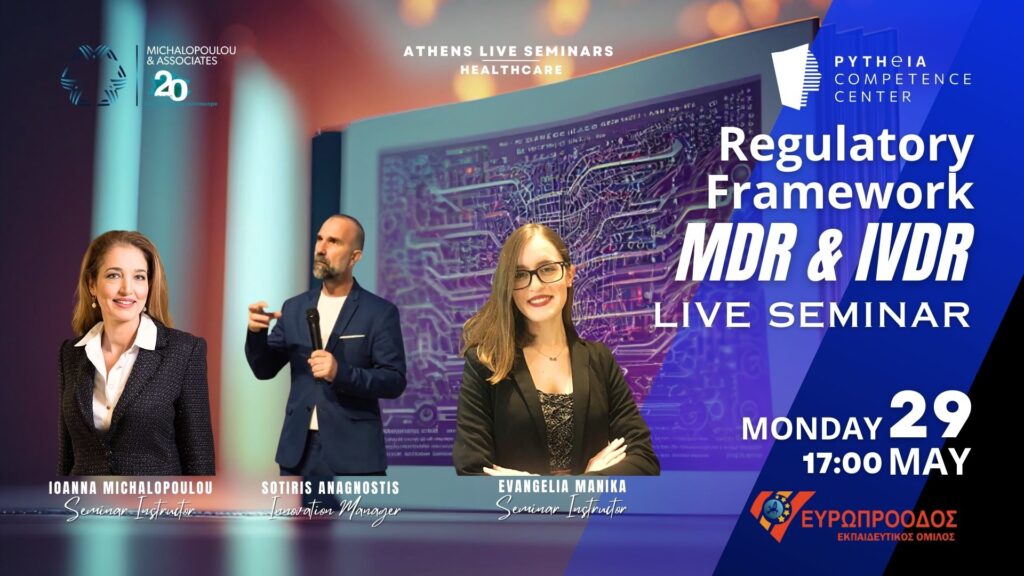 The leading Competence Center in Greece in the field of Health, Pytheia in collaboration with the specialized legal office Michalopoulou & Associates Lawgroup and the educational organization EUROPROODOS, is organizing an official seminar that provides essential knowledge required before conducting any research or development of Medical Devices and Software as Medical Devices.
Seminar Details: Date: Monday, May 29, 2023 Time: 17:00-21:00 Location: Academy 98-100, Athens, EUROPROODOS educational organization
Who Should Attend:
This course is designed for all stakeholders in the medical technology supply chain, including manufacturers, distributors, medical technology product executives, researchers, start-ups, pharmaceutical companies, IT companies active in medical applications, irrespective of department and specialty. The seminar encourages lifelong learning and facilitates greater interaction among professionals in the sector.
Topics Covered: During the seminar, we will cover a range of subject areas, including:
Introductory information: basic definitions under MDR/IVDR.
MDR vs AI Act: Challenges & contrasts between the MDR and the proposed new Regulation on Artificial Intelligence.
Transitional provisions and validity of certificates.
The case of Greece – Legislative framework.
Medical Devices vs. Medicines.
Medical Device as Software: Definitions, Characteristics, and classification, marketing and conformity assessment of MDSWs, individual MDSW modules, program changes.
Medical Device as Software: Clinical Documentation and Clinical Evaluation.
Cyber Security and MDR/IVDR Issues.
Obligations of economic operators under MDR/IVDR and the role of PRRC (person responsible for regulatory compliance).
Security Issues including UDI, EUDAMED.
Responsibilities and Role of Notified Bodies.
Scope, subject MDR/IVDR → Regulations, purpose, key changes, classification of medical devices.
Comprehension Quiz.
Conclusions and areas of concern-Questions.
The course will also touch on the announcements and contrasts between the MDR and the proposed new regulation on artificial intelligence, followed by a quiz to test understanding, and concluding remarks.
Registration:
To secure your spot, we encourage you to pre-register today, as the registration will close after reaching 50 entries. The participation fee is 150 euros. A special certificate will be awarded to attendees of this seminar.
This action is co-financed by EPANEK (European Regional Development Fund of the European Union and national resources) through the General Secretariat for Research and Innovation (GSIC). We aim for maximum participation to ensure comprehensive training registrations.
To create awareness and promote the seminar, we have prepared three social media posts for Facebook and Instagram. Researchers and potential seminar attendees are listed in the article. Stay tuned for these posts, and please help us spread the word.
Thank you, and we look forward to seeing you at the seminar!
Sincerely, Sotiris Anagnostis/ Manager @Pytheia Competence Center